QAnon Rep says LGBTQ Equality Act will hurt women, Christians & fetuses in unhinged rant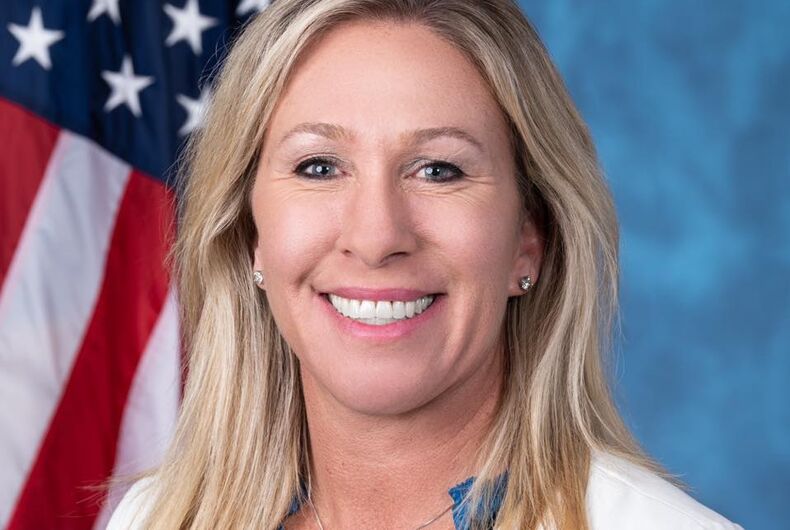 Rep. Marjorie Taylor GreenePhoto: U.S. Congress
Far-right conspiracy theorist Rep. Marjorie Taylor Greene (R-GA) has recovered from the historical embarrassment she earned from being kicked from her committee assignments in the House of Representatives to deride the Equality Act as "evil" and as a "direct attack on God."
The Equality Act has been introduced in every session of Congress for years now, only passing in the House in 2019 before the Republican-controlled Senate refused to even vote on it. The proposed law would amend the Civil Rights Act of 1964 to protect LGBTQ people from discrimination in employment, housing, public accommodations, education, federal funding, credit, and other areas.
Related: Mitt Romney will oppose LGBTQ rights bill unless Christians get a right to discriminate
Greene took to Twitter today to breathlessly declare that the Equality Act is an attack on both women and fetuses.
She shared an article from the New York Post, a right-leaning tabloid that has recently been accused of spreading election misinformation. The opinion article was written by noted anti-transgender activist Ryan T. Anderson — the President of the Ethics and Public Policy Center, the religious right think tank — who declares the proposed law to be "threats to our society" and "Orwellian."
Greene followed suit on Twitter, claiming "The so-called #EqualityAct is evil" and "has nothing to do with equality. It virtually destroys women's rights and religious freedom."
"How can anyone vote for this?" she asked.
She then goes on an unhinged tirade claiming that "our daughters will no longer have the right of privacy," that trans women TSA agents will pat down cisgender girls, and medical professionals will have "no choice" but to treat their patients equally.
"Men who dress and think they are women will have rights over all real girls and women," Greene said. She then bizarrely said that the bill that bans LGBTQ discrimination "has nothing to do with stopping discrimination against the LGBT community, that could be done easily without this."
"I WILL BE VOTING NO TO THE DISGUSTING, IMMORAL, AND EVIL #EqualityAct!!!" the elected member of Congress wrote.
Greene has never let factual evidence get in the way of making a bizarre claim, which is why members from both parties took the initiative to remove her from being on any Congressional committees, such as the House Committee on Education and Labor, so her tendency to spread inaccuracies or falsehoods doesn't impede work in the House.
Greene is known for her belief in the long-debunked QAnon conspiracy theories, which claimed that the government was really in the control of a "deep state" cabal of pedophiles in opposition to Donald Trump, and "Q" is someone on the inside that needed help in bringing the "deep state" down.
Some other "theories" and beliefs that Greene has peddled on social media include that mass shootings such as the Parkland and Newtown massacres were "false flag" events, denial that the 9/11 terror attacks took place, that Black people "are held slaves to the Democratic Party," that "space lasers controlled by a Jewish family" were the cause of many wildfires, and the QAnon precursor, Pizzagate.
Like many of her previous claims, the public did not respond as kindly to her "theories" on the Equality Act.
This is far from Greene's first anti-LGBTQ act. Greene publicly harassed a drag queen for 90 minutes at a Drag Queen Story Time event in April 2019 and posted the actions on Facebook Live, calling the drag queen an "abomination." Once her previous comments and actions got her in hot water, she attempted to defend herself by comparing her transphobia to porn on Twitter. (It didn't work.)
She sponsored H.R. 85, which would declare Pride flags as "Hate America Flags" and outlaw them from flying on federal property.
She also attempted to impeach Joe Biden on his first day in office after claiming he wasn't even really going to become President because Donald Trump would "remain in office" after January 20.
The latest rendition of the Equality Act was reintroduced by out Rep. David Cicilline (D-RI) in the House and Sens. Tammy Baldwin (D-WI), Cory Booker (D-NY) and Jeff Merkley (D-OR) in the Senate. The bill has 280 cosponsors in the House and Senate, the most it has ever had.
This time, it has bipartisan support, in addition to the full support of the Biden White House. It comes up for vote later this week.