Rainbow lifeguard station burned down in possible hate crime. People want it back, gayer.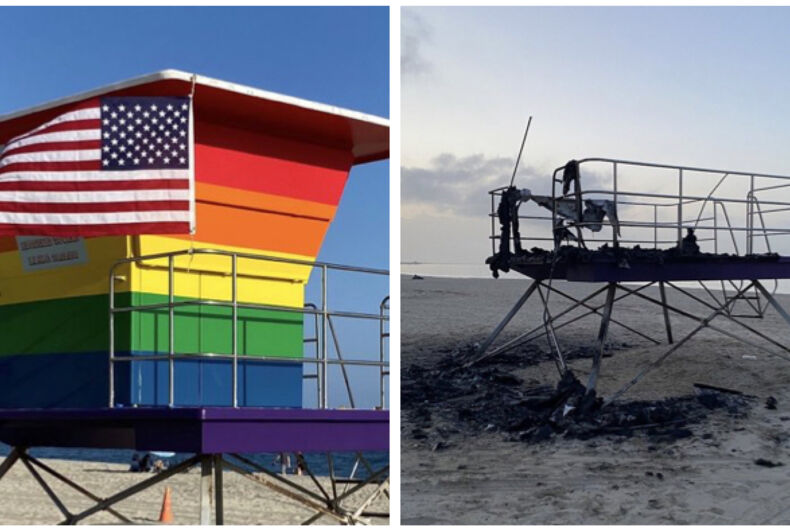 The Pride lifeguard station on Long Beach before and after the fire on March 23, 2021.Photo: Screenshot/Robert Garcia
A fire has burned down a lifeguard station that was painted in Pride colors on a beach in Long Beach, California, and Long Beach's out mayor, Robert Garcia, said today that he "personally [has] little doubt this was an act of hate."
Garcia's already pledging to rebuild the station "bigger and better," he said on Twitter. "And gayer," he added later.
Related: Gay Long Beach mayor's snappy defense of Pete Buttigieg put a gay Republican in his place
The fire was reported just after midnight local time today and was first reported by the Press-Telegram. Ken Osborn, President of the local LGBTQ+ Real Estate Alliance, was riding past on his bicycle when he discovered the blaze, and he believes the fire was a hate crime.
"It's horrible," he said. "There are [multiple] lifeguard stations out there and this is the one that gets burned up. It makes you wonder."
Osborn said he expects it to be swiftly replaced, adding he doesn't know of a similar instance where this has happened during his time living there.
"Something like this does not stop us," he said. "We are not going to cower because of this."
The station had no electricity, water, or running utilities, Garcia believes. Long Beach Marine Safety Chief Gonzalo Medina stated that an investigation will take place.
This station – one of 20 on the town's namesake beach – was painted in celebration of Pride last year by the out lifeguards that patrol the waters there. Medina stated that it "will be replaced and repainted by lifeguards."
"The tower served as a symbol of our strong support for diversity within our ranks and the LGBTQ community who call Long Beach home," Medina added in the department's statement.
Garcia told the paper that it's not a coincidence in his mind, especially since Long Beach hasn't had a fire burn down a lifeguard station in 60 years. "As a gay man who is also the mayor of a city, I understand that hate incidents still happen. They happen to people I know, and they've happened to me," he said.
Long Beach is considered one of the world's most welcoming places for LGBTQ people. Based on legal protections and community data, he Human Rights Campaign score for the city in their Municipality Equality Index is currently a perfect 100.
West Hollywood's mayor Lindsey Horvath replied to Garcia's tweet, "Sending love and support from @WeHoCity," adding, "We stand with you. There must be no safe place for hate."
Los Angeles County Assessor Jeff Prang also tweeted in support, saying that he is "looking forward to an even brighter lifeguard station!"
Wasco, California's first out mayor Alex Garcia added, "Hate is very real and present in today's society."
The vice president of the Victory Fund, Sean Maloy, tweeted that he knows that Garcia "will build it back better!!"
Garcia simply replied, "And gayer."
Garcia is considered a rising star in the Democratic Party. He was one of 17 politicians to deliver the party's keynote address jointly at the Democratic National Convention, alongside Stacey Abrams and fellow out politicians in Pennsylvania Rep. Malcolm Kenyatta (D) and Georgia Rep. Sam Park (D). They were the first LGBTQ people to deliver a keynote address at the Convention.
In 2009, Robert Garcia became the first LGBTQ person of color elected to the Long Beach City Council. In 2014, he became mayor of the city, the first out and Latin person to do so. In 2018 he married his husband Matt Mendez.
Last night, our PRIDE lifeguard station that was painted by LGBTQ+ lifeguards, burned down. The fire is under investigation but I personally have little doubt this was an act of hate. To whoever committed this act, we will rebuild it better and brighter. pic.twitter.com/VxNQZgCBpF

— Robert Garcia (@RobertGarcia) March 23, 2021
Very sad to see this act of vandalism in such a beautiful city like Long Beach! Looking forward to an even brighter lifeguard station! ?️‍? Mayor, I'm here if you need anything!

— Jeff Prang (@JeffPrang) March 23, 2021
Hate is very real and present in today's society. We stand in solidarity to say THERE's NO PLACE FOR IT HERE! ?? https://t.co/YmvBqeRQ3o

— Mayor Alex Garcia (@MayorAlexGarcia) March 23, 2021
Sending love and support from @WeHoCity we stand with you. There must be no safe place for hate. Period. #weho

— Lindsey P Horvath (@LindseyPHorvath) March 23, 2021
That's my thought! How do we make it gayer!?

— Ryan W. O'Connell ? (@ryguy895) March 23, 2021
Every time one is destroyed or vandalized, put up 2 more.

— Josh (@Ciao_Patsy) March 23, 2021
Allow me to volunteer to help repaint it. I live in 90815 area.

— T (@TomMurphy59) March 23, 2021