Republican governor discovers evangelicals invented cancel culture when they come for her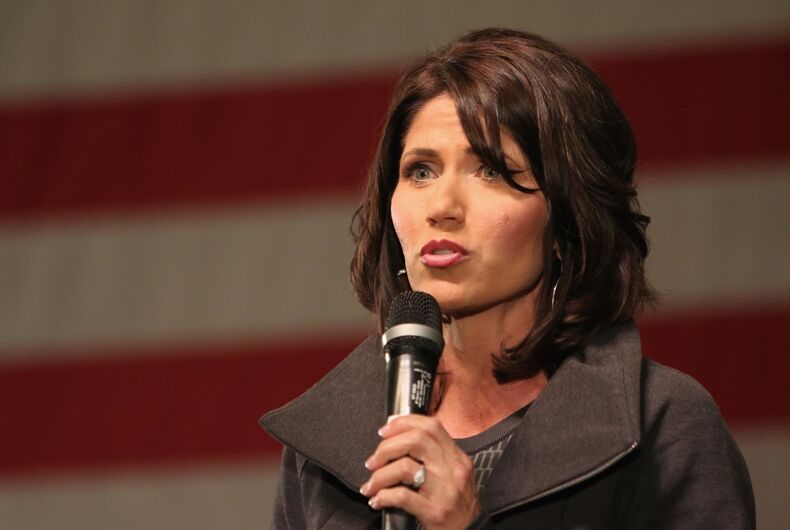 SIOUX CENTER, IOWA – JANUARY 16, 2016: U.S. Representative Kristi Noem speaks at a Republican political rally in Iowa.Photo: Shutterstock
Republican South Dakota Gov. Kristi Noem is discovering that evangelical Christians invented cancel culture as the religious right and conservative pundits savage her for refusing to sign a piece of anti-transgender legislation.
Noem's spokesperson is now decrying what he calls "conservative cancel culture" instead of blaming liberals for wanting the inept governor out of office. Noem's handling of the coronavirus pandemic has earned her praise from COVID deniers and condemnation from medical professionals.
Related: South Dakota passes "religious freedom" bill that could legalize discrimination
"Governor Noem is very used to fighting off criticism from the left," Noem spokesman Ian Fury told the Daily Caller. "After all, in the past year, she was the only governor in the entire nation to never order a single business or church in her state to close. The left bullied her incessantly, but she didn't cave."
"But if any number of conservative pundits are to be believed, that same governor who refused to cave is now caving to the NCAA and Amazon on the issue of fairness in women's sports. What? Apparently, uninformed cancel culture is fine when the right is eating their own."
Noem said she was "excited" to sign the bill and only opposed the legislation because she thought it shouldn't ban trans women from college sports. She worried such a ban would cause big-money collegiate sporting organizations, like the National Collegiate Athletic Association (NCAA), to avoid holding games and tournaments in the state, The Argus Leader reported.
Instead of vetoing the bill, she used a "style and form changes" maneuver that allowed her to return the bill to the legislature with notes of her desired changes. If the legislature complies, she'll sign the revised law.
"I'm still incredibly excited to sign this bill," Noem said.
Fury called the bill "a trial lawyer's dream, offering all sorts of avenues for litigation that have nothing whatsoever to do with the issue at hand."
"Furthermore, the bill picked a fight with the NCAA," he said, "a fight that renowned conservative legal experts advise Governor Noem that she will lose, especially considering South Dakota's unfriendly federal bench."
The legislation would require student-athletes to submit statements verifying both the sex they were assigned at birth and a non-use of steroids over the last year. Similar bills banning trans people from academic sports have been introduced in 14 states, the Human Rights Campaign said.