Republican introduces anti-trans bathroom bill in Congress to stop "radical gender ideology"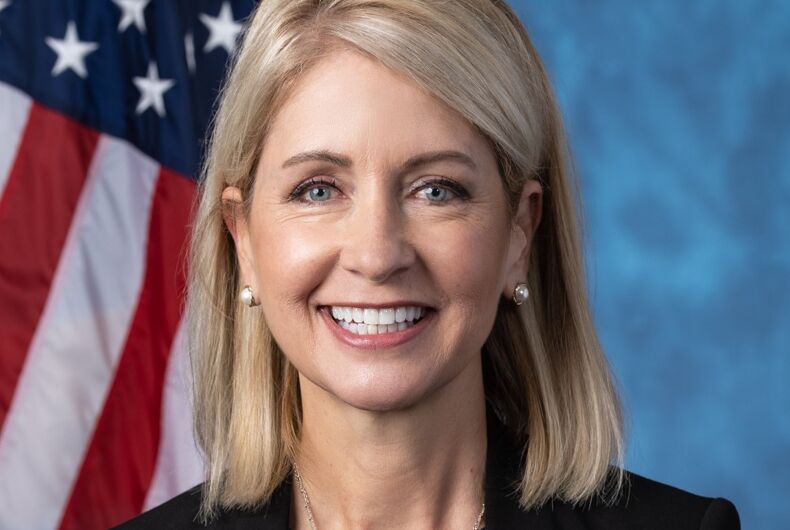 Rep. Mary MillerPhoto: U.S. Congress
A Republican Congressmember introduced her first bill ever, and it's an anti-transgender bathroom bill she says will fight "radical gender ideology" being pushed "on our children."
Rep. Mary Miller (R-IL) issued a press release for H.R. 1417, the Safety and Opportunity for Girls Act (SOGA), which she says would ban schools from allowing transgender students from using the bathroom or locker room that aligns with their gender identity and instead force them to use facilities associated with their sex assigned at birth.
Related: Republican congressman says God "detests" LGBTQ people in revolting speech from House floor
The press release attacked the Biden administration for issuing an executive order that says that bans on discrimination "because of sex" in federal law should be interpreted as banning discrimination against LGBTQ people because it's impossible to discriminate against LGBTQ people without taking sex assigned at birth into account. This reasoning was part of the Supreme Court's 2020 Bostock v. Clayton Co. decision.
And that executive order applied to Title IX of the Education Amendments of 1972, which bans sex-based discrimination in schools.
But Rep. Miller says that her bill is in-line with Title IX, even though she would require schools to discriminate between transgender and cisgender students on the basis of sex assigned at birth.
"Title IX was created to enhance opportunities for women, not threaten their safety," she said. "My goal is to protect spaces like bathrooms, locker rooms, and sports teams for women like my five daughters."
"Democrats continue to push radical gender ideology on our children, and we must draw the line to protect women and girls."
Rep. Miller has gotten support for her bill from some of the more extreme members of Congress, including Rep. Marjorie Taylor Greene (R-GA), the "QAnon Rep" who is concerned about Jewish space lasers, has protested Drag Queen Story Hours, and has supported calls for Speaker Nancy Pelosi (D-CA) to be assassinated.
"As a former competitive athlete and a mother to a daughter who is a D1 collegiate athlete, I staunchly oppose biological males in girls/women's sports, locker rooms, and bathrooms," she said in a press release.
Rep. Lauren Boebert (R-CO) – who is worried that Spongebob Squarepants is gay – called transgender equality "dangerous Democrat policies."
"No high school athlete should have to look behind her back while changing in the locker room to make sure there isn't a confused man catching a peek," she said, incorrectly referring to transgender school girls as adult men.
Rep. Greg Steube (R-FL) is co-sponsoring Miller's bill as well. In January, he introduced a bill to ban transgender girls and women from high school sports.
Just last week, he said in a speech in the House that God "detests" transgender people and that the U.S. will be punished by God for supporting LGBTQ people.
Steube said that God made men and women "to be distinct from and complementary toward one another. The gender confusion that exists in our culture today is a clear rejection of God's good design. Whenever a nation's laws no longer reflect the standards of God, that nation is in rebellion against him and will inevitably bear the consequences."