Republican staffers privately "gloating" over the Matt Gaetz sex trafficking allegations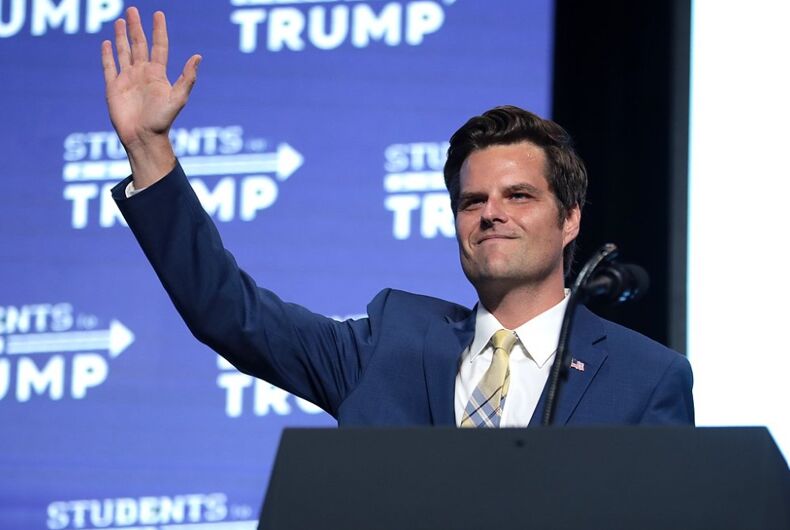 Rep. Matt Gaetz at a June 2020 Trump campaign event.Photo: Gage Skidmore/via Wikipedia
GOP and Trump administration officials are reportedly "gloating" after it was revealed last night that Rep. Matt Gaetz (R-FL) is under investigation for alleged sex trafficking.
Despite his conservative voting records – including his strong opposition to LGBTQ equality – a former House staffer told Business Insider that Gaetz is "a blight on the conference."
Related: Congresswoman Liz Cheney blasts Republican male colleague Matt Gaetz for wearing makeup
The New York Times reported yesterday that the Department of Justice (DOJ) is investigating Gaetz over an alleged sexual relationship with a 17-year-old girl in 2019, where he may have paid for her to travel with him.
Gaetz denies the accusations, but many are wondering if the investigation will lead to charges, prison time, or the congressmember's resignation.
And it turns out that many people in the conservative politician's own party aren't mad that Gaetz's career may be over soon.
"Good riddance," said a former Trump administration aide. "It sounds like he let whatever BS power he thought he had go to his head and he thought himself above the law."
"Republican leadership will likely watch him completely implode in a matter of days without having to do a thing," said another.
One former White House staffer called him "the meanest person in politics," adding that former Trump aides "feel a little vindicated" by the investigation.
"He's not in the legislative business. He's just out there to blow shit up and get on TV," said a House staffer.
Even Republicans who weren't in Congress or the White House don't feel a need to rush and defend him.
"The congressman is one of those that came to Washington to make an impression for fame and fortune rather than accomplishing anything in Washington for his constituents," said a Republican campaign consultant. "Matt is going to have a popularity problem now, and may just fade into obscurity. No one will want to associate with him until there's a resolution — which probably won't be favorable."
"National Republicans are concerned and are carefully monitoring the situation," said another GOP strategist.
Republicans apparently hate Gaetz almost as much as he hates LGBTQ people. He has gotten a score of "0" on the HRC Congressional Scorecard for his first two terms in Congress because of his solid opposition to LGBTQ equality.
But he's gone a lot further than opposing LGBTQ bills, like how he was an outspoken supporter of Trump's transgender military ban and then later lied about that support.
During a House hearing on the Equality Act in 2019, he bizarrely said that Donald Trump could claim to be "the first female president" to illustrate how he thinks trans women are just men pretending to be women.
"Consider this possibility — if President Trump were to say, I am now the first female president? Who would celebrate that?" Gaetz said. "Would those who support the legislation think that's a good thing, or would they be dismayed? Bad actors have already weaponized some ostensible equality laws for their own benefit."
He has so little regard for trans people's identities that he even said last year that "the trans women population in prison would skyrocket" if Sen. Elizabeth Warren (D-MA) were elected president after she said that trans prisoners should be housed with their gender. His joke was that cis men will pretend to be trans women in order to rape cis women, a common transphobic trope.
During a speech at the Conservative Political Action Conference (CPAC) this year, he claimed that Mr. Potato Head is "America's first transgender doll" because "you could move the parts around," but "even he got canceled."
The toy was not canceled, and Mr. Potato Head never had genital parts, moveable or stationary.