Republicans across the nation are fleeing the party as GOP leaders double down on Trump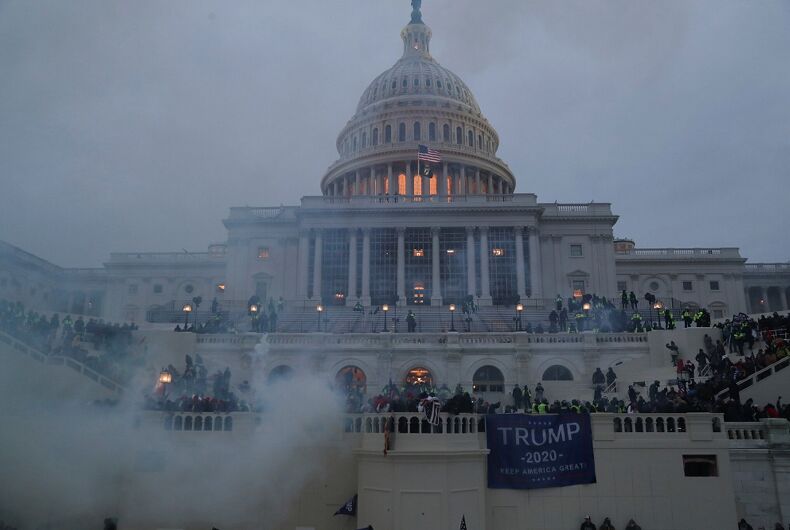 The Capitol was vandalized during the 1/6 riots.Photo: Shutterstock
Registered Republicans across the nation are fleeing the party as congressional leaders continue to back former President Donald Trump despite his role in the insurrectionist attack on the Capitol building. Trump made blatantly untrue claims of voter fraud and urged his followers to march on the building to "show strength" and "fight much harder."
Congressional leaders took a hard line with Trump originally after the storming, as then-Majority Leader Mitch McConnell (R-KY) blamed the former president directly. While Rep. Liz Cheney (R-WY) voted in favor of Trump's second impeachment, Minority Leader Kevin McCarthy (R-CA) has continued to back the insurrectionists.
Related: Trump has been writing down insults & begging others to tweet them for him
The week after the riot, about 4,600 registered Republicans changed their affiliation in Colorado alone. Similar or even more dramatic losses were recorded nationwide.
"I was completely shocked and ashamed. That's not how I think of the Republicans — who we were, and who we are," Lyle Darrah told NPR. "It's something I felt I could no longer be in support of. I don't know if there's anything to be said about being party loyal your entire life, if your party doesn't go in the direction you want it to."
Even Republicans who served in former administrations are saying goodbye to the party and re-registering as Independents or Democrats. Others are simply removing themselves as Republicans and leaving their affiliation blank.
"The Republican Party as I knew it no longer exists. I'd call it the cult of Trump," Jimmy Gurulé, the former-Undersecretary of the Treasury for Terrorism and Financial Intelligence in the George W. Bush administration, told Reuters.
Kristopher Purcell, who worked in Bush's communications office, added that he knows dozens of former administration officials who have cut ties to the GOP.
"The number is growing every day," Purcell said.
More than half of congressional Republicans voted to block the certification of the presidential election, mere hours after the Trump supporters stormed the building as they threatened to kill Vice President Mike Pence and House Speaker Nancy Pelosi (D-CA). Blocking the certification was the goal of the insurrectionists and they succeeded at delaying the process for several hours.
In one of the states challenged, Pennsylvania, the GOP lost 10,000 registered voters immediately after the riot.
While Democrats in the House of Representatives quickly moved to impeach Trump, Senate Republicans have indicated they will not vote to convict the now-former President for inciting the mob to attack the Capitol. The party similarly defended Trump in his first impeachment trial, which was for trying to pressure the Ukrainian government into harming now-President Joe Biden's political campaign.
Instead, Republicans have spent time attacking Cheney over her vote to impeach and holding up coronavirus relief payments.
Jo Swanson, a retired school psychologist from Denver, summed it up.
"As my husband said, it's just become the party of mean people," she said.