Ric Grenell strokes his own ego with petty attack on first out Cabinet Secretary Pete Buttigieg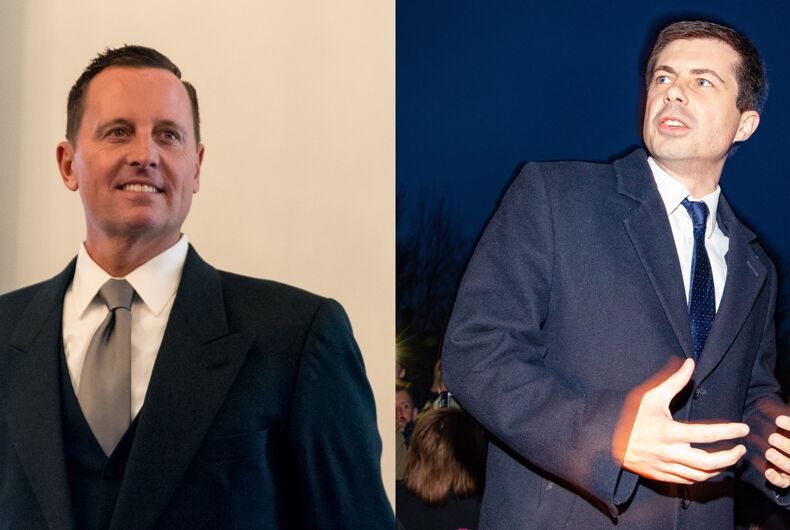 Ambassador Richard Grenell attacked out presidential candidate Pete Buttigieg on Fox NewsPhoto: Composite
Since President Joe Biden nominated Pete Buttigieg to be Secretary of Transportation, most of the LGBTQ community has celebrated his appointment as the first out Cabinet member. Buttigieg was confirmed by the Senate this week and was sworn in yesterday.
Former U.S. Ambassador to Germany Richard Grenell, however, has been sulking. Grenell served as the acting Director of National Intelligence (DNI) in former President Donald Trump's administration for about two months. The DNI is a "Cabinet-level" position, but it's not a Cabinet secretary, it's not the head of an executive department, and it's not in the Presidential Line of Succession. Grenell only held the seat until the actual DNI was confirmed and even continued to serve as ambassador at the same time.
Related: Trump's favorite gay Republican joins anti-LGBTQ group founded by Pat Robertson
All Cabinet members are confirmed by the Senate; most of the people who hold Cabinet-level positions are also confirmed, although the White House Chief of Staff is not. Grenell was not confirmed by the Senate.
But the difference hasn't stopped Grenell and his supporters from repeatedly claiming that he was the first "Cabinet member." While blatant exaggeration was a hallmark of the Trump administration, Grenell has held on to his claim as fiercely as the former president insisted the size of the crowd at his inauguration was larger than former President Barack Obama's.
As Buttigieg's historic swearing-in made news, Grenell tweeted his "congratulations" to the Secretary for becoming "the second openly gay member of a President's Cabinet."
The tweet was accompanied by a photo of Trump giving Grenell the chair he sat in during Cabinet meetings as "proof" he was first.
The LGBTQ community, however, wasn't having any more of Grenell's petty self-aggrandizement and quickly shot back.
"Oh wait, were you confirmed by the Senate?" Catholics for Choice Director of Communications and Strategy Charlotte Clymer responded. "Remind me."
"Republicans were in control of the Senate at the time of his appointment, but good try," she continued in a response to one of Grenell's supporters whose account has since been deleted. "You can ask Senate Republicans why they declined to bring his nomination to the floor for consideration. McConnell certainly had the GOP votes, and yet, Grenell wasn't considered."
"what are you saying?" Grenell responded using all lowercase letters. "i was confirmed by the senate for germany and under the vacancies act made acting dni and placed in the cabinet. i wasnt waiting for any other confirmation."
"Richard, it's a simple thing: the GOP was in control of the Senate," Clymer shot back. "All you needed was 50 GOP senators and Pence (at the most), and you'd have been confirmed to Trump's Cabinet — so, what happened? Do tell."
Grenell resigned as ambassador after serving as acting DNI. Since leaving the administration, he has returned to trolling "liberals" and journalists on social media. His confirmation as ambassador was held up by concerns over his conduct on Twitter.
He recently accepted a job with the conservative Christian legal organization American Center for Law and Justice (ACLJ) as a Special Advisor for National Security and Foreign Policy. The ACLJ was founded by the anti-LGBTQ extremist and televangelist Pat Robertson in 1990 to advance "universal, God-given and inalienable rights."
Not only was he not confirmed, but DNI isn't even technically a cabinet position, just cabinet-level, and what jobs are considered "cabinet-level positions" is largely up to an individual President on a basis of… basically who they let into cabinet meetings.

— ✡️? Nathan | נתן (@BadJewishBoy) February 2, 2021
Republicans were in control of the Senate at the time of his appointment, but good try. You can ask Senate Republicans why they declined to bring his nomination to the floor for consideration. McConnell certainly had the GOP votes, and yet, Grenell wasn't considered.

— Charlotte Clymer ?️‍? (@cmclymer) February 2, 2021
Richard, it's a simple thing: the GOP was in control of the Senate. All you needed was 50 GOP senators and Pence (at the most), and you'd have been confirmed to Trump's Cabinet — so, what happened? Do tell.

— Charlotte Clymer ?️‍? (@cmclymer) February 2, 2021