Ruby Rose was brutally beaten with metal chairs when she was bullied in school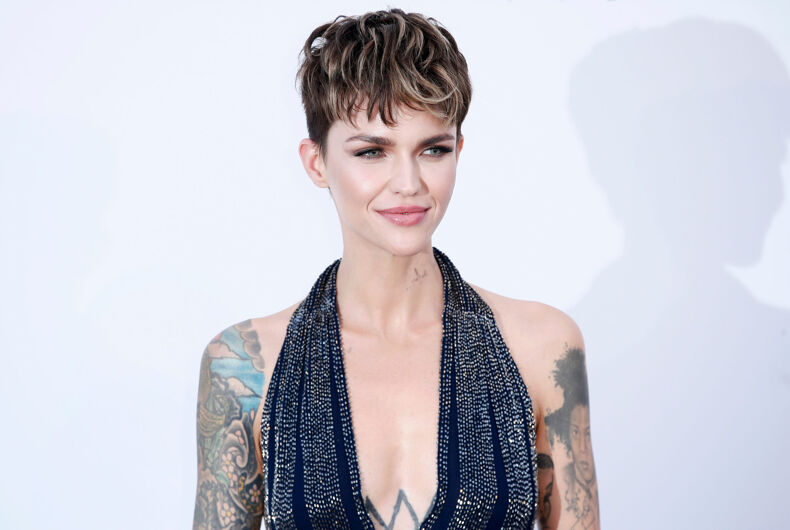 Ruby Rose arrives at the amfAR Gala Cannes 2018 on May 17, 2018 in Cap d'Antibes, France.Photo: Andrea Raffin / Shutterstock.com
Former Orange is the New Black and Batwoman star Ruby Rose shared in a recent interview that after coming out as a pre-teen, she endured severe bullying and vitriol as a youth growing up in Australia.
In the horrifying attack, she was hit with metal chairs and punched. She said she was left with severe injuries, including a concussion.
Related: Ruby Rose says her inspiration comes from LGBTQ icons Jolie, DeGeneres & Lennox
The out lesbian and genderfluid actor also shared an incident where she was hospitalized after one incident.
Rose opened up about her past to the Guardian in a profile published on March 31. She grew up with her mother, an artist, in a church parish-maintained home in Melbourne.
"For a long time, I thought there was something a bit wrong with me, or that I wasn't the gender I was meant to be. It took years," she recalled, "but eventually, I came to a place where I went: 'OK, I think I'm just very androgynous and very in tune with the masculine energy.'"
When Rose came out at age 12, around 1998, her mother was "fully supportive," the profile says.
"She knew anyway," Rose said.
But her schoolmates were not as supportive, and she was "verbally and physically abused, socially excluded" and eventually brutally attacked.
"It was little bullying moments like that, that just made me feel like I couldn't be myself."
She recalled how one teacher sent her on a three-month trip abroad to Germany, in what Rose believes was an attempt to protect her since she didn't previously qualify for the trip.
Rose opened up about how she "was hospitalized and then was out of school for about five days" after one incident.
"I got beaten up by about four girls and one guy in front of about 50 people. They hit me in the head with metal chairs at a café, and they threw things at me. They punched me," she recalled.
"I ended up with lacerations, big bruises, concussion, and also… just how much that horrifies your soul, your spirit. I'd been bullied a lot, but not to this degree where I was worried for my life."
Rose had already struggled with depression and other mental health stress, and her mother didn't have the money to sustain the hiring of an attorney, so Rose's family opted not to press charges on the assailants.
"She still receives messages from people who witnessed the attack. Some apologise for not intervening. One described the nightmares they still have about it," the Guardian summarizes about Rose's ordeal.
Since, Rose became a world-acclaimed model, which propelled her into acting opportunities, eventually landing her international breakthrough role as Stella Carlin in Orange in the New Black on Netflix.
She starred in the first season of the CW show Batwoman as the titular character, the out, masculine-of-center lesbian Kate Kane. Creative differences and significant injuries, including an incident on-set that nearly left her paralyzed her, led her to make the "difficult decision" to leave the show after one year.
The show was the first to feature a lesbian superhero in the title role. The decision to hire Rose was controversial online and cruel attacks on social media caused the star to delete her Twitter account.
Rose and her character was replaced by Javicia Leslie, another out actress, who instead plays Ryan Wilder, who takes over as the Caped Crusader and is also a lesbian.
Rose, meanwhile, will next appear in the comedy Three Sisters.