Saturday Night Live's Michael Che tells transphobic joke involving Joe Biden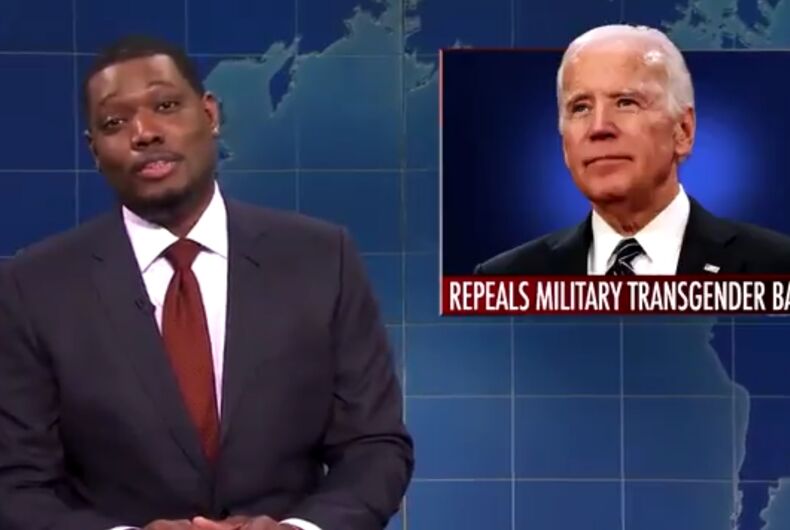 Michael ChePhoto: Screenshot/Twitter
Saturday Night Live's Michael Che is facing criticism for a transphobic joke he made on the show over the weekend.
Discussing Joe Biden's executive order to reverse Donald Trump's transgender military ban in the "Weekend Update" segment, Che said, "President Biden signed an executive order repealing Trump's ban on transgender people from serving in the military."
Related: John Krasinski kisses Pete Davidson because he has to give the fans what they want
"It's good news, except Biden is calling the policy, 'Don't ask, don't tuck.'"
It's not quite clear what the joke even means, since Don't Ask, Don't Tell required gay, lesbian, and bisexual servicemembers to stay in the closet (the "Don't Tell" part), whereas Biden's executive order would allow transgender people to serve openly in the military.
But the disrespectful reference to transgender people's genitalia was probably the part of the joke intended to draw laughs.
"For all the scaremongering over trans people, it never ceases to be incredibly creepy the way some cis people are obsessed with our bodies," tweeted transgender advocate and Catholics for Choice communications director Charlotte Clymer. "It's gross and weird and creepy."
Others were not impressed.
This isn't the first time Che has used transphobia for laughs. In a 2019 "Weekend Update" segment, he discussed Kanye West's Christian gospel album and how that was a big transformation for the rap artist.
"Now you might think that I'm crazy, but about five years ago, there was a fella named [deadname] Jenner, and he moved to Calabasas," Che said, deadnaming and misgendering Caitlyn Jenner.