Second grader expelled from Christian school because she said she had a crush on a girl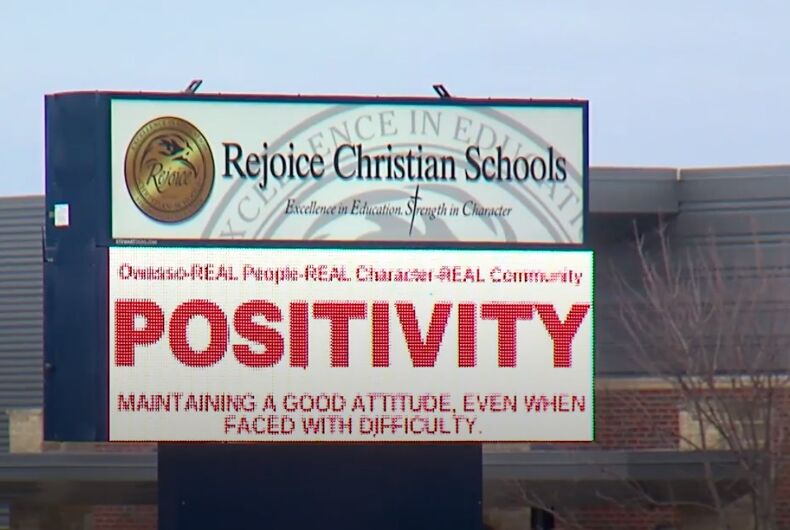 Rejoice Christian School in Oklahoma expelled a girl for having a crushPhoto: Screenshot
A second-grade student was expelled from Rejoice Christian School in Owasso, Oklahoma after she told another girl she had a crush on her.
"She said the vice principal sat her down and says the Bible says you can only marry a man and have children with a man," Delanie Shelton, the girl's mother, said. "My daughter was crying, saying 'Does God still love me?'"
Related: These Indiana high school students need a parental permission slip to be trans
"The vice principal asked me how do I feel like girls liking girls and I said if we're being honest, I think it's okay for girls to like girls and she looked shocked and appalled," Shelton added.
The school told local news that they didn't condone boyfriend/girlfriend relationships at the school and pointed to the school's handbook. It does not say that it is grounds for expulsion. The child did not break any of the school's rules.
When that was pointed out, Superintendent Joel Pepin clammed up and would only say, "Due to privacy and other factors, it is the school's policy to refrain from public comments regarding any particular student or family."
The girl's parents are now looking for a new school for their daughter.
"I don't believe that my daughter should have been ripped out of the only school that they've known for the past several years," said Shelton.
But she's sticking with her belief that all people are equal.
"Whatever makes people happy they should be allowed to do," said Shelton.