Soccer star Megan Rapinoe testified before Congress & she spoke truth to power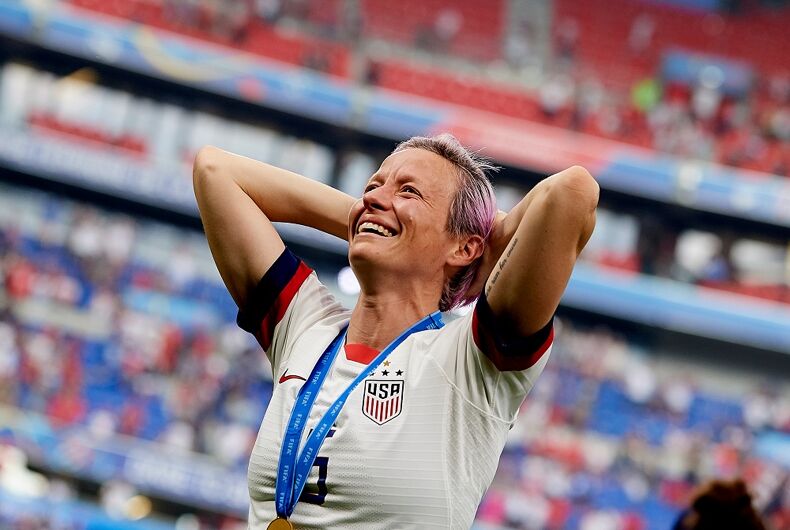 Megan Rapinoe celebrates after winning the 2019 FIFA Women's World Cup France Final match between The United State of America and The Netherlands at Stade de Lyon on July 7, 2019 in Lyon, France. Photo: Shuttertstock
Out soccer star Megan Rapinoe testified before Congress about gender pay inequality and how even world-famous athletes still experience it.
"One cannot simply outperform inequality or be excellent enough to escape discrimination of any kind," she said.
Related: Megan Rapinoe, Billie Jean King & 174 female athletes sign brief supporting trans women in sports
March 24 was Equal Pay Day in the U.S., a day that symbolizes how far into a year an average woman has to work extra to earn the same as what an average man made in the previous year.
Rapinoe led the U.S. Women's National Soccer Team to victory at the Women's World Cup in 2019, but she said told the House Oversight and Reform Committee that success on the field didn't translate into equal pay.
Despite the successes of the U.S. Women's National Soccer Team – which include four Women's World Cup victories and four Olympic gold medals – the women on the team are still paid less than the men on the men's team, despite how the men have earned fewer accolades.
In fact, in 2016 five women soccer players filed a complaint with the Equal Employment Opportunity Commission (EEOC) and in 2019 all 28 members of the U.S. team filed a lawsuit against the U.S. Soccer Federation for gender discrimination.
"The U.S. Soccer Federation has continually lobbied against our efforts," Rapinoe said. "And if it can happen us and it can happen to me – with the brightest light shining on us at all times – it can and it does happen to every person that is marginalized by gender."