South Dakota Republicans resurrect anti-trans bill after rejecting it hours before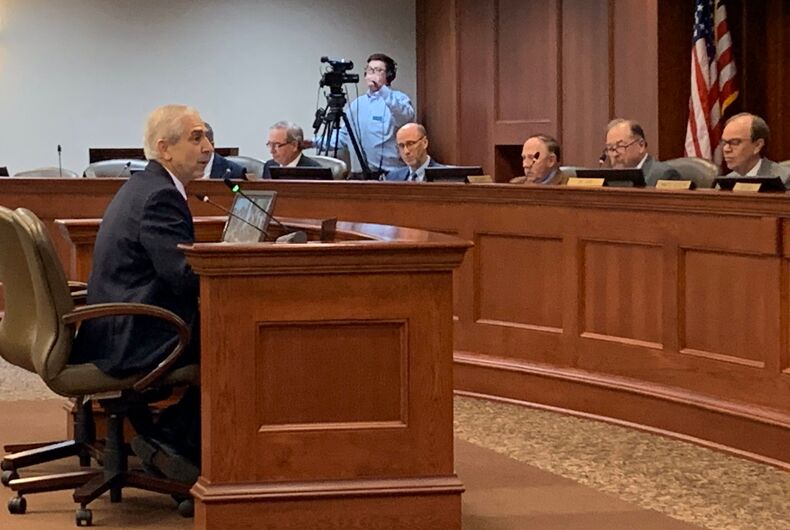 1/22/2020: South Dakota state rep. Fred Deutch testifies in favor an anti-transgender bill he proposed.Photo: Twitter/Deutch
South Dakota Rep. Fred Deutsch (R) is determined to make life more difficult for transgender people.
The far-right Republican watched his bill to prevent transgender people from changing their birth certificates go down in defeat during a committee hearing on Tuesday morning, but Deutsch managed to convince enough members of his party to support the measure that he was able to resurrect the bill.
Related: Trans student goes viral with amazing response to teacher who refused to use correct pronouns
Deutsch's bill, despite being rejected in a 7-6 committee vote, will now proceed directly to the House floor. Advocates have already announced they will sue the state if the law passes through an unconstitutional process.
The bill would require the sex marker on someone's birth certificate to only be their sex assigned at birth. The committee debated and rejected the bill, as it would have made it harder for transgender people to correct the gender marked on their birth certificates.
Known as H.B. 1076, Deutsch wanted the bill to provide "an understanding" to the judiciary because "we don't want our judges providing different opinions over something as simple as 'can you change the sex on a birth certificate?'" he said.
This is not the first time an anti-trans bill has been introduced by Deutsch and shot down in the legislature. Last year, he co-sponsored a bill that would have punished doctors or medical professionals for treating trans or gender non-conforming youth. It was also dropped in committee.
At the time, he called trans people receiving gender-confirming care "a crime against humanity" and compared it to Nazi experiments in Auschwitz during the Holocaust while appearing on an anti-LGBTQ hate group's podcast.
In 2016, he sponsored a "bathroom" bill that would have required trans people to use restroom facilities based on their sex assigned at birth. It was ultimately vetoed by the governor, and legislators didn't garner enough votes to overturn the veto.