Super Bowl announcer shouts "Take off the bra & be a man!" at Super Bowl streaker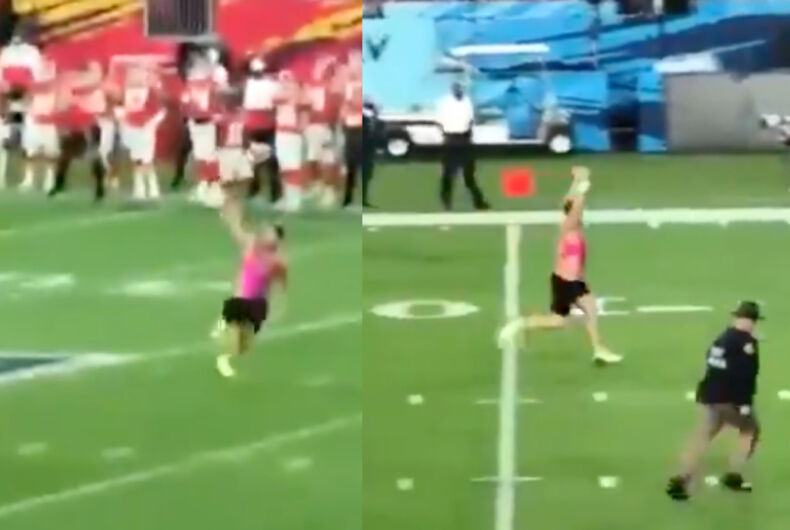 Streaker Vitaly Zdorovetskiy at Super Bowl LV.Photo: Screenshot
As Super Bowl LV was winding down last night between the Kansas City Chiefs and Tampa Bay Buccaneers, and it became clearer that Tom Brady would win his seventh championship, a different Florida man took center stage.
Even during a pandemic, at a game with limited attendance and with heightened security, a streaker was still able to dart across the field with about five minutes left in the final quarter of the game, nearly making it from one end of the field to the other. He was tackled one yard out of the Chiefs' endzone.
Related: Ex-NFL player suggests segregating trans athletes & may start a podcast to discuss it
Kevin Harlan, the radio play-by-play announcer calling the game for Westwood One, apparently couldn't help delivering a harrowing, strangely elated play-by-play of the streaker's moment of fame. But Harlan couldn't help but preface the impromptu race with dismay at the streaker's attire.
"Someone has run on the field. Some guy with a bra," he says seemingly with a sneer. Then, as the "guy with a bra" runs past the players, who stopped play while the intruder had his moment, Harlan gives listeners an above-and-beyond call of his actions.
Harlan couldn't help but take further exception to the streaker's appearance. "He's running down the middle on the 40, arms in the air in a victory salute."
"He's pulling down his pants! Put up your pants, my man! Pull up those pants!"
"Pull up your pants, take off the bra, and be a man!" Harlan shouted.
It's far from the first time that Harlan, a 40-year sports announcer veteran, has had to take note of a streaker in the middle of a game. He even previously pledged to stop giving them play-by-play remarks, but apparently he couldn't help himself at his tenth Super Bowl broadcast for radio.
Many listeners had complaints about his "be a man" remarks, simply based on the man's appearance in pink. Some joked, but some sincerely called for him to apologize.
Media outlets like Insider and Fox News praised the call as "classic" and "incredible." Westwood One certainly didn't mind, sharing more of the call for fans to hear on Twitter.
For contrast, here's the call from BBC Radio, where the announcers instead focused on the questionable move of running toward men donned in helmets and pads.
"Whether fans like it or not, 'Pull up your pants, take off your bra, and be a man' is now a part of the Super Bowl lexicon," says Sporting News.
The streaker was former YouTube star and current Florida man Vitaly Zdorovetskiy, who tried to turn the moment into a marketing ploy for his porn website. And, if it matters, he appears to be wearing more of a pink unitard than a "bra."