Ted Cruz tells a transphobic joke to warm up the audience at CPAC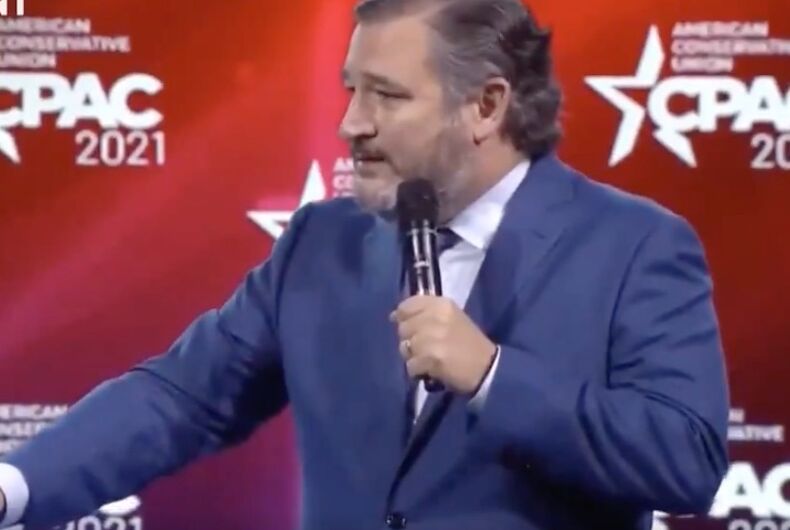 Sen. Ted Cruz at CPAC 2021Photo: Screenshot
Sen. Ted Cruz (R-TX) may have been vilified by Republicans and Democrats for trying to sneak off to Cancun, Mexico while his constituents suffered through an extreme winter storm without electricity or water, and his halfhearted apology has been belied by his fiery remarks that it was all just a media frenzy.
He's so unapologetic for abandoning voters during the state's biggest weather crisis in decades that he opened his speech at the Conservative Political Action Conference (CPAC) with a joke about it. And he tried to continue his "comedy" routine with jokes about transgender women.
Related: The viral jokes about Ted Cruz's quickie Mexican vacation won the internet today
"Orlando is awesome," Cruz quipped. "It's not as nice as Cancun."
After being busted by other travelers and shamed on social media, Cruz returned to the U.S. and blamed his daughters for his decision to flee the state. His shamefaced reappearance didn't stop the memes and jokes – especially after he was denied an upgrade to business class.
In addition to being universally despised in a party that somehow embraces the likes of Laura Ingraham and Rep. Steve King, Cruz also holds the distinction of being one of the most anti-LGBTQ senators in a chamber full of them.
"You know, in 2020, the New York Times reported that 60% of women named Karen voted for Joe Biden," he said later. "That's actually real! That's what the New York Times reported. And I'm willing to believe that 80% of the men named Karen voted for Joe Biden."
The list of Cruz's most bigoted moments is long, but the following gives you a sense of just how awful he is.
There's plenty more where that came from.
Ba-dum ching. He'll be here all week…or until he's issued a subpoena.

— Melissa Pace (@meels33) February 26, 2021
True. They're never sorry, only sorry they got caught.

— foreigncorrespondent (@foreigncorrespo) February 26, 2021