The cast of "Glee" will reunite to honor late actress Naya Rivera at the GLAAD Awards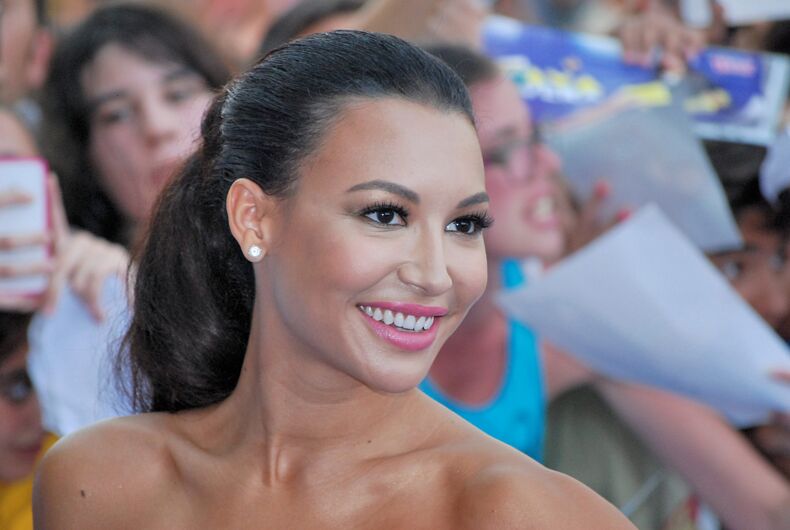 July 24, 2013 : Naya Rivera at Giffoni Film FestivalPhoto: Shutterstock
The cast of the hit show Glee will be reuniting at the 32nd Annual GLAAD Media Awards ceremony, the LGBTQ advocacy organization GLAAD announced this week.
They will be honoring their late fellow cast member Naya Rivera. The out actress was 33 when it was announced that she died in July. Her body was recovered from a lake after she had went missing, and her four-year old son, Josey, was found alone on a boat the two had ventured out on.
Related: Several major mainstream news outlets receive failing grades for LGBTQ coverage
Rivera played Santana Lopez, a lesbian cheerleader, on the hit television show from 2009 to 2015. Lopez was initially a recurring character, then became one of the core characters for the series by the show's second season. The cast will honor her coming out on the show, which aired 10 years ago this year.
Rivera was bisexual, casually coming out on The View in 2015 with little fanfare.
"New research found that women who are bisexual are more likely to suffer mental health problems than lesbians," host Rosie O'Donnell said, referring to a recent study.
"You know what Rosie, no wonder I'm crazy," Rivera shot back.
Demi Lovato — who was a guest star that played Dani, the character that was a love interest of Lopez — will introduce the tribute.
Cast members Jacob Artist, Chris Colfer, Darren Criss, Vanessa Lengies, Jane Lynch, Kevin McHale, Heather Morris, Matthew Morrison, Alex Newell, Amber Riley, Harry Shum Jr., Becca Tobin, and Jenna Ushkowitz are all confirmed to take part. Diana Argon and Lea Michele are among those notably not confirmed to participate.
Rivera had rented a boat on California's Lake Piru when she was reported missing. After days of searching, authorities found her body in the lake, concluding that she drowned.
In a tribute after her death, Lovato wrote of Rivera, "the character you played was groundbreaking for tons of closeted queer girls (like me at the time) and open queer girls, and your ambition and accomplishments were inspiring to Latina women all over the world."
"I'll forever cherish the opportunity to play your girlfriend on Glee," she stated.
This announcement comes just a few weeks after Rivera was not included in the tribute for late musicians at the most recent Grammy Awards ceremony. She had been nominated twice for Grammy Awards for her contributions to the soundtrack of Glee.
Glee also won two GLAAD Media Awards throughout its run out of six nominations. The show aired on FOX, becoming one of television's top-rated shows during its run. It was co-created and executive produced by Ryan Murphy, who also created Pose and American Horror Story.
The 32nd Annual GLAAD Media Awards will air April 8 at 8:00 PM EST. Hosted by Niecy Nash, it will stream on YouTube followed by airing on Hulu at 10:00 PM EST and available for streaming for months later.
Announced special guests at the show include out entertainers Matt Bomer, Katy Perry, Anthony Rapp, Jojo Siwa and Sam Smith, among others.
LGBTQ Nation received a nomination for Outstanding Online Journalism Article for the article "Here's how Reggie Greer takes on LGBTQ outreach for Joe Biden in this 'very personal' election" by John Gallagher. The award winner will also be announced at the ceremony.
The cast of Glee is reuniting at the #GLAADawards on April 8th to honor the legacy and impact of Naya Rivera and to celebrate the 10th anniversary of her character Santana Lopez coming out. https://t.co/B9m6X6xpA7

— GLAAD (@glaad) March 24, 2021