The gay secrets behind the classic TV sitcom "Bewitched"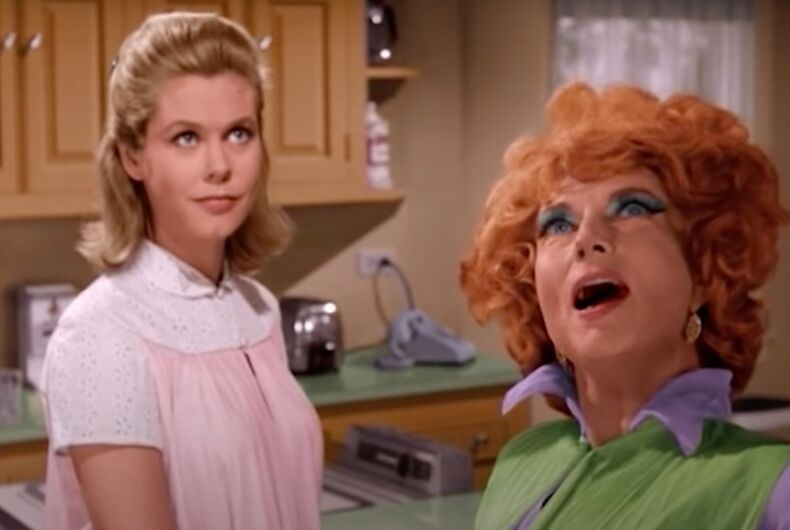 Elizabeth Montgomery and Agnes Moorehead starred in "Bewitched."Photo: screenshot
Why does Bewitched feel so queer? It was about a straight couple, after all, and never had a single explicitly LGBTQ+ character.
And yet the sitcom, which ran from the mid-60s to the early 70s, has an intensely queer feeling. It somehow comes off as queer without ever actually coming out. How is that possible?
Related: Soccer stars Ali Krieger & Ashlyn Harris announce they've adopted a baby daughter
Behold, the power of subtext! Bewitched, which was recently referenced (obliquely) on the show WandaVision, was about a witch named Samantha who marries a mortal named Darren, and the couple decides to keep her powers a secret. The show debuted pre-Stonewall, at a time when gay characters were vanishingly few on television — particularly when it came to primetime and sitcoms.
But it was also the middle of the civil rights era, and many TV shows were using wacky high-concept premises to explore social issues through metaphor without actually addressing them.
Bewitched managed to put a queer allegory in front of viewers by leaning heavily on the metaphor of the closet. In one early-season episode, a group of witches complains about having to hide while also warning about the danger they'd face if they were "out." In another episode, Samantha tries to repress her inherent magic so much it starts going haywire, and a doctor advises her that she'll always be a witch and she needs to stop feeling guilty about who she truly is.
And of course, the show had plenty of queer cast members. Paul Lynde, who played Uncle Arthur, was gay, as was Maurice Evans, who played Samantha's father. Even one of the twins who played a little girl on the show grew up to be a queer business leader. Rumors abound about other cast-members, though it's hard to find any evidence that they ever spoke openly about their sexuality.
But one of the most touching scenes is between Samantha and her TV-daughter, Tabitha. When the little girl starts performing magic of her own, Samantha has a heart-to-heart, explaining that "the world may never be used to people like us." It's a speech not dissimilar from the one that many queer people have had to deliver to younger generations. Or at least, they did, back before public attitudes improved.
Long after Bewitched went off the air, one of the actors who played Darren found himself back in the headlines when he came out as gay. Dick Sargent was prompted to come out by a predatory tabloid that had threatened to expose his secret, but he managed to get ahead of them by delivering the news himself in 1991.
Looking back on the show, Sargent said, he would have liked to make the gay metaphor even gayer by having the Darren character march in a "Mortal Pride Day" parade. That might seem a little odd; the witches were the ones who were hiding, so why would mortals get a Pride Day? But he probably wasn't thinking so much about his character as he was about himself in real life.
"Shoulda done this years ago," Sargent said.