The Obamas will produce an upcoming film about Bayard Rustin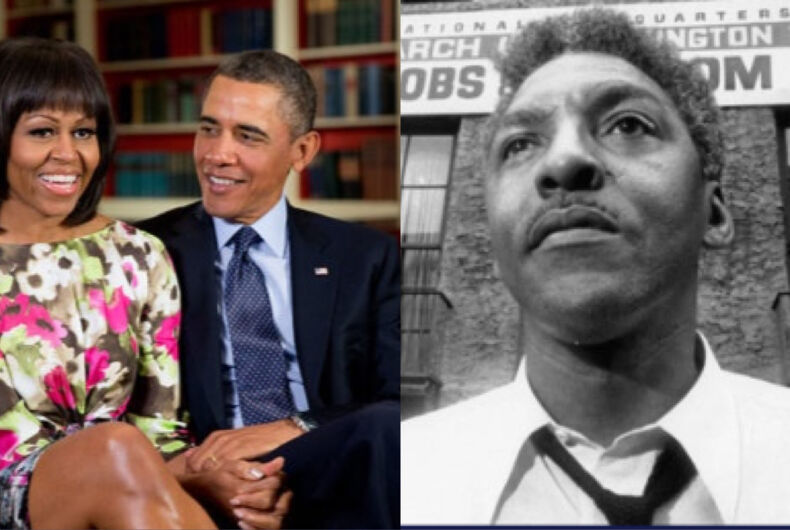 Barack and Michelle Obama (left) and Bayard Rustin (right)Photo: File/LGBTQ Nation Composite
Details are being revealed about the upcoming feature film Rustin on the life of the gay, Black activist and organizer who organized the 1963 March on Washington and introduced Dr. Martin Luther King, Jr. to non-violent tactics.
Former President Barack Obama (D) and First Lady Michelle Obama will produce the movie as part of their deal with Netflix.
Related: 6 organizations to donate to in the spirit of Dr. Martin Luther King Jr Day
Out director George C. Wolfe, most recently known for directing the critically-acclaimed film adaptation of Ma Rainey's Black Bottom, is set to direct Rustin. Dustin Lance Black, the winner of an Academy Award for Original Screenplay for the film Milk on Harvey Milk, will be a writer and producer as well.
Deadline reports that the Obamas will be producers along with Tonia Davis and Priya Swaminathan as part of Higher Ground Productions, the production company founded by the former first couple in 2018.
Rustin devoted six decades of his life to the fight for equality: for civil rights and gay rights through nonviolent protest. He met Martin Luther King Jr. in the 1950s, and he started working with him as a strategist in 1955.
But fellow leaders in the movement leaders took issue with his identity as a gay man. Rustin had been arrested on a morals charge in 1953. He'd been derided as a communist, a draft dodger, and a gay man.
Yet he persisted, and in his final years, he became more involved in the struggle for gay rights, his surviving partner, Walter Naegle, said.
Although Rustin was out and his close friends knew he was gay, his religious and political associates distanced themselves after his arrest.
The conviction after compelled him to leave the Fellowship of Reconciliation, a U.S.-based interfaith peace organization, and to leave his position as a lead organizer alongside Dr. King in the Southern Christian Leadership Conference. Many Civil Rights leaders at the time worried that Rustin's sodomy conviction would compromise the integrity of the movement.
Nevertheless, Rustin went on to serve as a lead organizer of the 1963 March on Washington, a pivotal demonstration in the nation's Civil Rights history that drew thousands of people in a peaceful protest of racial inequality and injustice.
In an attempt to embarrass Rustin following the march, Sen. Strom Thurmond (R-SC) read Rustin's 1953 "sex perversion" conviction on the Senate floor, for the record.
Rustin's life was previously chronicled in director Marc Weiss' 2003 documentary Brother Outsider: The Life of Bayard Rustin.
In 2013, President Obama awarded him the Presidential Medal of Freedom posthumously, 50 years after the march.
Obama praised Rustin for his years of contributions. "As an openly gay African American, Mr. Rustin stood at the intersection of several of the fights for equal rights."
In 2020, California Gov. Gavin Newsom (D) pardoned Rustin posthumously for the conviction that stained him from the 1953 arrest.