The viral jokes about Ted Cruz's quickie Mexican vacation won the internet today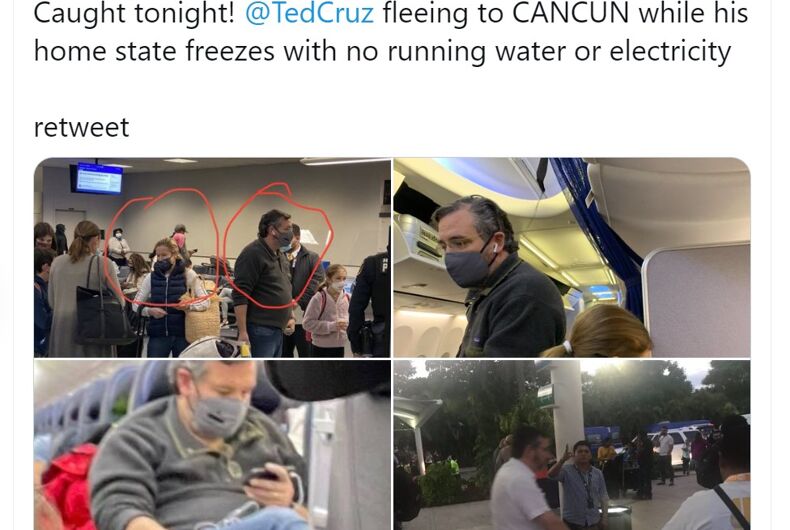 Twitter users are sharing pictures of a man who appears to be Sen. Ted Cruz flying to MexicoPhoto: Screenshot/Twitter
A terrifying winter storm has knocked out power and gas to millions, stranding Texans without heat, water, and shelter. Some state officials are scrambling to find solutions during the unusually cold weather, but Sen. Ted Cruz (R-TX) decided it was a good time to vacation in Cancun with his family.
After being busted by other travelers and shamed on social media, Cruz returned to the States and blamed his daughters for his decision to flee the state. His shamefaced reappearance didn't stop the memes and jokes – especially after he was denied an upgrade to business class.
Related: Texas spent more time fighting LGBTQ civil rights than fixing their power grid. How'd that work out?
We've rounded up some of the best below, but there's one obvious winner.
Blaire Erskine has gone viral before when she spoofed a Trump supporter appearing on local news, but her impression of Cruz's Director of Communications had some folks fooled. The bar for "believable" has been dramatically lowered, after four years of the Trump administration.
"If you killed Ted Cruz on the floor of the Senate, and the trial was in the Senate, nobody would convict you," Sen. Lindsey Graham (R-SC) famously said and Twitter proved the point. Social media was on fire all day as users mocked the conniving and hypocritical legislator.
And after Cruz blamed his daughters for the decision to light out for Mexico while his constituents struggled without water and electricity, it only got worse. The craven Congressman wore a mask with a Texas theme.
"With school canceled for the week, our girls asked to take a trip with friends. Wanting to be a good dad, I flew down with them last night and am flying back this afternoon," Cruz said as he flew back.