Trans teen trying out for "American Idol" wows America… even Gene Simmons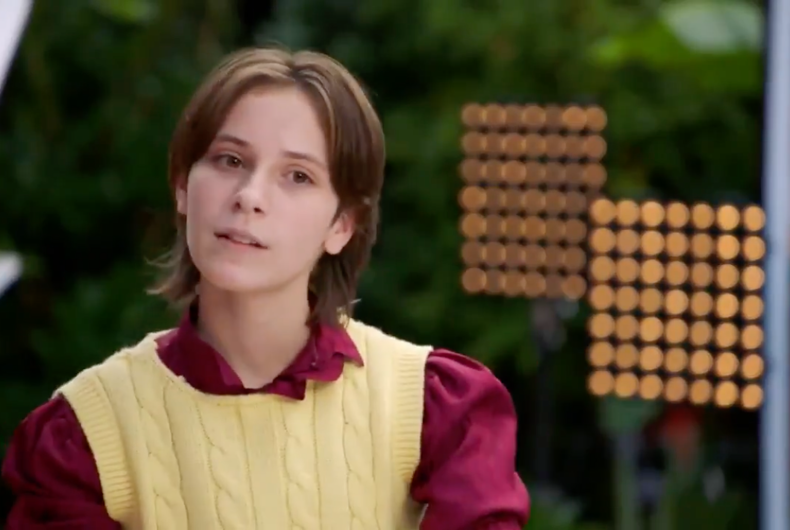 Ace Stiles in the pre-audition interview for American Idol.Photo: Screenshot
Sixteen-year-old Ace Stiles of Tulsa, Oklahoma was nervous going into his audition for American Idol, and like many singers trying to make it to Hollywood, the judges found his stage presence wasn't polished enough to make it to the next round.
But unlike most other contestants, Stiles came out as transgender at 14 and is the first trans contestant on Season 19 of the show — and unlike most other contestants, Stiles has most fans on his side, chastising the judges who turned him away. Including legendary rocker Gene Simmons.
Related: "Sporty Spice" says she sometimes wished she was a lesbian

"I definitely had to come out to myself before I could come out to everybody else, but when I was 14, I had a moment of realization," Stiles said during the pre-audition taping. His mother, Colleen, has happily supported his identity and his entertainment dreams.
"Ace sat me down in his room and said, 'Mom, I have to tell you something. I'm a boy.' I said, 'Okay,'" Colleen explained.
Stiles already has had struggles being himself elsewhere, such as at school, where he was forced to use a closet as a dressing room for the school play as opposed to the changing rooms aligned with his gender.
"They made me change in the closet. It wasn't fun and made me cry. But it's chill," the teen honestly revealed.
So it was understandable that Stiles had butterflies before going in front of the likes of Luke Bryan, Katy Perry, and Lionel Richie, the star-studded judges for the latest rendition of the longtime competition show, filmed to air on network television broadcast to millions in America.
Stiles sung his own self-written song, "Addicted," which he joked was "not about drugs because I'm 16 and that's illegal."
The judges seemed impressed with his singing but felt his nervousness got in the way.
After his audition, Perry asked, "Is Ace your real name?"
"Sure," he replied. "I'm trans, so I got to pick my name, so technically it's my name!"
Richie said he was "having a dilemma" because he was "trying to figure out, when I hear your voice, if you commanded it." He did say, "The curiosity of your voice is there."
Bryan told the teen, "I feel like you're far smarter than your years. The only thing I'm dealing with is the introverted, the quietness of your voice."
Both Bryan and Perry encouraged Stiles to keep training and practicing his music but still voted no.
"Ace, I think you've got an interesting voice. It's definitely very vintage-y," Perry said. "It's definitely very quirky. I think you've got something worth investing."
Richie decided "to say yes, to make you feel good about the fact that we believe in you," knowing that the one vote wasn't enough.
Stiles walked away disappointed but still proud of himself.
"After coming out, I definitely felt better than I have in a long time."
He said in parting to the American Idol audience, "Everybody at home, I hope they see that it's OK to be yourself. I'm going to be myself, and I don't need any of you to tell me that I'm not worth it, because I am worth it and I figured it out on my own."
Fans at home, though — who saw Stiles's audition after the judges chose a different contestant, Yurisbel, mainly on his personality over his voice — took the judges' decision much worse.
Some also pointed out the striking difference between the dismissal of Stiles with the judges' readiness to coach and accept other people during their auditions.
"The judges' patronizing of this amazing artist as 'quirky' was about one of the most repulsive things I've seen on TV," one fan wrote.
"The judges made a really terrible mistake with Ace Stiles. What a slap in the face to see that after they let through that joke of an audition from the guy who sang Pitbull #AmericanIdol," wrote another.
No one seemed more miffed than Gene Simmons. As in, KISS frontman and Rock & Roll Hall of Famer Gene Simmons.
"None of the judges saw the star quality of [Ace]," he said in one of a series of tweets after the show's airing. "They are wrong."
Simmons called Stiles "a truly unique presence" that "completely" blew him away. He specifically called out Bryan for saying Stiles wasn't ready.
Despite the backlash, Stiles is home and will likely have to wait for a different season — if he wants to try being the American Idol again. But his fan base definitely grew bigger.
He's already got Simmons as his top supporter, and apparently, an impersonator on Twitter who claims to be "trying to give him the handle so no pervs got it" first.
You tagged the wrong but I still feel cool right now lol

— acehasstiles (@acehasstiles1) February 22, 2021
Damn I thought I was done with the identity crisis guys this is actually me not the other one

— acehasstiles (@acehasstiles1) February 22, 2021
Thank you that's a fake account I'm the real ace I appreciate you tho

— acehasstiles (@acehasstiles1) February 22, 2021
See Ace's full journey to his audition below.