Trans woman lauded as hero after stepping in to help cancer patient when no one else would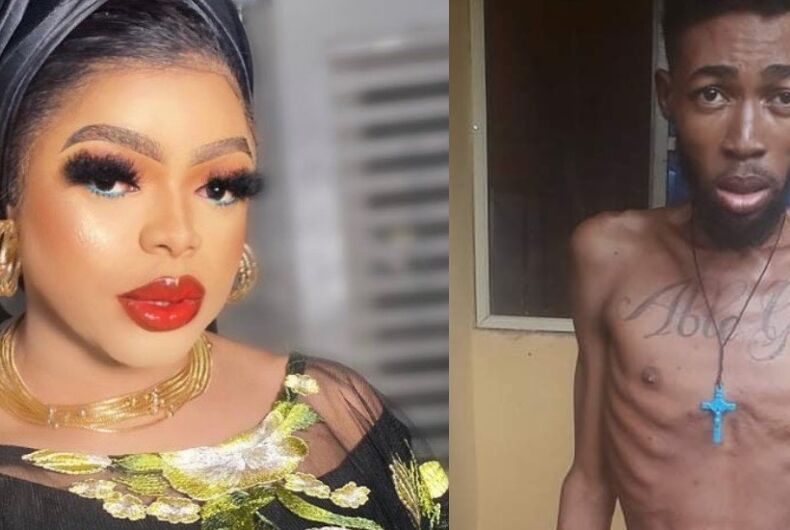 Bobrisky and Kolawole Solomon EguntolaPhoto: Twitter/Instagram composite
A transgender woman is being hailed as a hero after she stepped in to pay for a cancer patient's treatment. In a country known for being intolerant of LGBTQ people, Nigerian social media influencer Bobrisky has become a symbol of generosity and empathy.
When Kolawole Solomon Eguntola posted a photo of his withered body on Instagram in September along with a plea for help, Bobrisky stepped up to pay the 2.5 million Naira ($6,000) for his chemotherapy. The average monthly income in Nigeria is about $500.
Related: California is named after a Black lesbian queen
"I have been sick for the past nine months now," Eguntola said. "I was hospitalized at Lasuth Ikeja hospital and the doctor confirmed I had leukemia blood cancer and now they have to place me on chemotherapy which will cost about 2.5million. Which I don't know what to do or where to get it cos I can't eat or even move out of bed. Please my people I really need help right now. I'm dying and I don't want to die please help me and God will bless you all."
Eguntola posted a follow-up picture late last month to show the dramatic difference the treatment had on his body. He thanked Bobrisky for her generosity and credited her with saving his life.
"God bless you always," he wrote.
"May God continue to bless and protect her," one person commented in response.
"Thank God for you brother and bobrisky," another added.
"May God bless [Bobrisky] for intervening," a third continued with the praise. "You will never lack and you shall never know sickness, amen."