Trump appointee busted for insurrection. He worked for a hate group before rioting for Trump.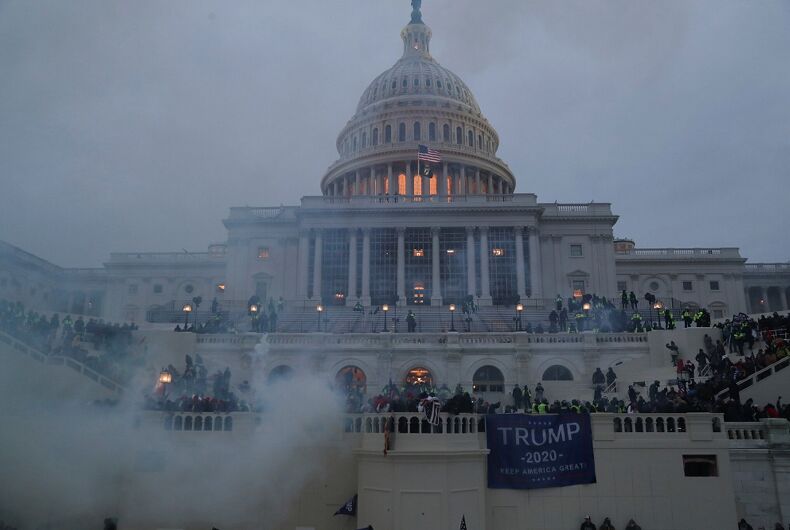 The Capitol was vandalized during the 1/6 riots.Photo: Shutterstock
A former anti-LGBTQ hate group employee who was appointed to a Trump administration position has been arrested in connection to the MAGA riot at the Capitol.
Federico Klein, 42, was a State Department aide appointed by Donald Trump and he's now the first Trump appointee to be arrested in connection to the attempted insurrection.
Related: Beverly Hills Trump supporter who shouted "fa***t" in viral video arrested for being at MAGA riots
A spokesperson for the FBI's Washington Field Office told Politico yesterday that Klein was arrested but would not state what charges he is facing exactly.
Klein worked on Trump's 2016 presidential campaign as a "tech analyst" and then served as a special assistant in the Bureau of Western Hemisphere Affairs at the State Department. He worked at the Office of Brazilian and Southern Cone Affairs before working in an office that handles Freedom of Information Act requests.
At some point before his time in the Trump administration but after he graduated from college in 2002, he worked as a researcher for the Family Research Council (FRC), an SPLC designated hate group that focuses on anti-LGBTQ rights and anti-choice work, according to his LinkedIn profile.
The group has repeatedly associated homosexuality with pedophilia, called being transgender a mental disorder, and painted LGBTQ people as aggressive and harmful to children.
"For years, LGBT activists wanted to keep the goal of luring children into sexual confusion under wraps," FRC President Tony Perkins said in 2019. "Now that they've hoodwinked a lot of the country on their agenda, these extremists no longer have to hide. In fact, they are increasingly bold–even boastful–about their real intentions of recruiting kids."
The story provides yet another connection between Trump and the angry mob of his supporters who stormed the Capitol in January in an attempt to reverse the results of the 2020 elections, which President Joe Biden won. The protestors, carrying explosives and other weapons, illegally pushed past security to enter the building while lawmakers were evacuated.
They set up a noose outside the Capitol, looted the building, and chanted for the death of Mike Pence. Five people died.
His mother Cecilia Klein said that she knew her son was in D.C. in January but "as far as I know, he was on the Mall. That's what he told me."
"Fred's politics burn a little hot," she said, "but I've never known him to violate the law."
"While I believe, as he said, he was on the Mall that day, I don't have any evidence, nor will I ever ask him, unless he tells me, where he was after he was on the Mall."