Two Congresswomen are having a stand-off over trans rights outside their offices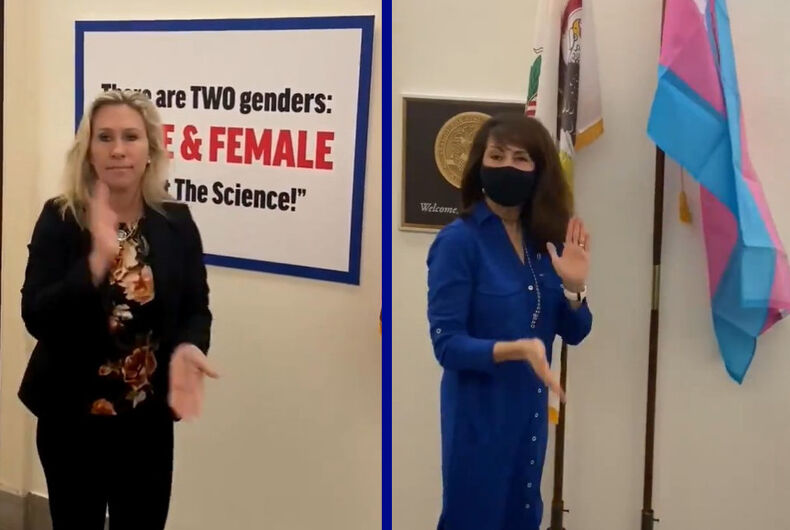 Rep. Marjorie Taylor Greene (l) and Rep. Marie NewmanPhoto: Screenshot/Twitter
After insurrectionist Rep. Marjorie Taylor Greene (R-GA) decided to hold up all of Congress's business in a destined-to-fail attempt to stop the LGBTQ Equality Act from passing the House, one of her colleagues found the best way to get back at her.
But Greene got even more deranged by hanging a hateful sign in response that insulted the Congresswoman's child.
Related: QAnon Rep says LGBTQ Equality Act will hurt women, Christians & fetuses in unhinged rant
Rep. Marie Newman (D-IL) put up a transgender flag across the hall from Greene's office so that she'd have to see it every day.
Greene – who is best known for her support for bizarre conspiracy theories like the (false) idea that Hillary Clinton and Tom Hanks are running a cannibalistic child sex trafficking ring that Donald Trump was secretly trying to take down – is also really opposed to LGBTQ rights.
She called the Equality Act "DISGUSTING, IMMORAL, AND EVIL" and yesterday she even tried to shut down Congress, forcing everyone to vote to keep it open, just to prevent debate on the landmark LGBTQ civil rights bill and delivered a "long bigoted speech on the House floor attacking transgender people."
Rep. Newman is supportive of LGBTQ rights and her office is near Greene's. So she put up a transgender flag outside her office.
"Thought we'd put up our Transgender flag so she can look at it every time she opens her door," Newman tweeted with a video of her putting up the trans flag.
Greene – who has nothing better to do with her time because the House voted to strip her of her committee assignments due, in part, to her supporting the assassination of Speaker Nancy Pelosi (D-CA) – put up a hateful sign in response that said: "There are TWO genders: MALE & FEMALE. 'Trust The Science!'"
In a tweet, Greene said that the Equality Act would "destroy women's rights and religious freedoms." She posted a video of herself smirking at the camera while slapping it on the wall.
Making Greene's sign even more insensitive is the fact that Newman's daughter is transgender. On the House floor, she called her daughter the "strongest, bravest person I know."
"My daughter has found her authentic self," Newman said.
Both Congressmembers got a lot of attention on Twitter with their signs, eliciting responses from accepting people and from transphobes.
Here are some of the better responses.