Two lesbians attacked while counter-protesting an anti-LGBTQ demonstration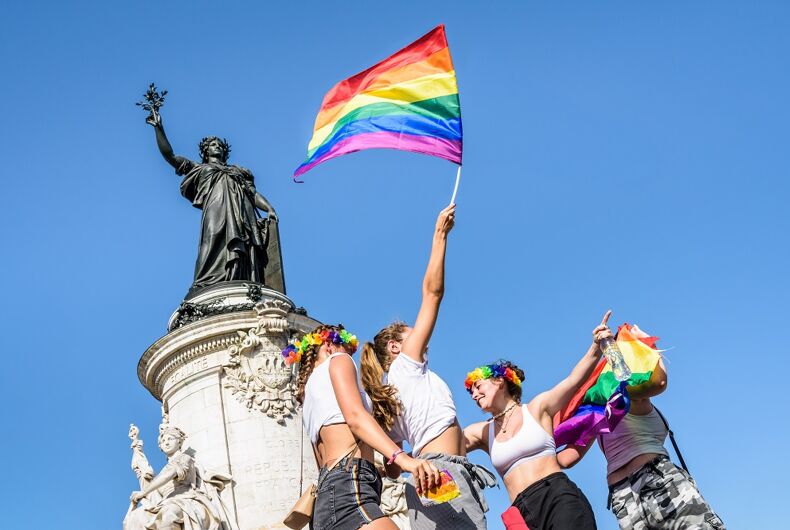 Scene from Pride in Paris in 2019Photo: Shutterstock
Two young lesbian activists say they were attacked while they were holding pro-LGBTQ signs near an anti-LGBTQ demonstration, and now they're filing a criminal complaint.
On January 19, the anti-LGBTQ organization Le Manif Pour Tous ("Protest for All," LMPT) in France held demonstrations all over the country in protest of a proposed law that could legalize fertility treatments for lesbian couples and single women. The ability for LGBTQ people to become parents is one of the most hotly contested LGBTQ issues in France.
Related: Attacker beats gay man to the ground while shouting slurs. He's too afraid of the cops to report it.
In the western France city of Angers, two 21-year-old lesbians decided to counter-protest, holding signs that read "It takes more than heterosexuality to be a good parent" and "Lesbians can be mothers without fathers."
"We heard about their little demonstration," one of the young activists told Ouest-France, so they tried to get near the protestors with their signs.
But two men who appeared to be with the anti-LGBTQ LMPT protest allegedly blocked the women in the street.
"While running, one of them pushed us with his shoulders," one of the women said. "They told us that they wouldn't let us pass."
"He pushed me and took my sign," said the other woman. "I lifted my arm to try to grab it back, and he pushed me violently. Adèle started screaming that two women were being attacked in the middle of the street, but the people who were passing by didn't even react."
One of the men "tore the sign, took my left arm, and held me in an arm-lock with my arm behind my back. Then I heard it crack."
The two men then released her and ran away.
"They told us that we shouldn't exist," said one of the alleged victims. And that's when they saw four men wearing ski masks coming towards them. LMPT protestors often wear full masks disguising their faces and were doing so years before the COVID-19 pandemic.
"They surrounded us and one of the guys charged at me. He pushed me off-balance, about ten meters away from the demonstration," she said.
Security came to break up the group and asked the women to leave.
An organizer of the conservative protest said that the men were with the local white nationalist group Alvarium, which he said was "following the protest, but wasn't part of the protest.
But the French LGBTQ website TETU says that members of Alvarium's leadership have been seen marching with LMPT in the past.