Viral Twitter meme hilariously imagines the fictional women that people would come out to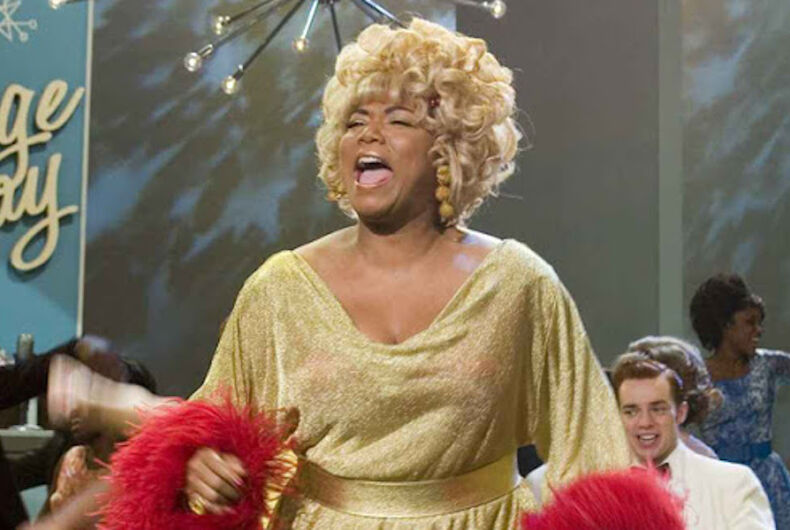 Queen Latifah as Motormouth Maybelle in the 2007 film Hairspray Photo: screenshot
Coming out isn't easy. Once you realize your truth, you must then decide who seems trustworthy enough to tell. But queer Twitter users have made a game out of that second part, imaging which fictional and real-life women they'd come out to.
The game is easy: Just find an image of one of your favorite female characters from TV or film, post it with the phrase, "I'd come out to her," and then see people's reactions.
Related: Chasten Buttigieg's story of being confronted at work has Twitter sharing their own stories
Here are some of our favorites:
Queen Latifah as Motormouth Maybelle from the 2007 film musical adaptation of John Waters' Hairspray.
Agatha Harkness, the troublemaking witch from the recent Marvel TV series WandaVision.
Kirsten Dunst as Marie Antoinette, the decadent French royal from the 2006 Sofia Coppola film of the same name.
Fran Drescher as Fran Fine, the wisecracking nanny and fashionista from the '90s era sitcom The Nanny.
Missi Pyle as Scarlett Beauregarde, Violet's over-involved mother in the 2005 film Charlie and the Chocolate Factory.
America Ferrera as Betty Suarez, the sweet but slightly oddball personal assistant in the 2000-era comedic drama series Ugly Betty.
The singing telegram lady who gets murdered soon after she shows up in the 1985 murder mystery comedy Clue.
Pope Francis. He's not a fictional character, and he's also anti-gay, but sure…
E.T. the Extra Terrestrial, disguised as an old lady in the 1982 film.
Grandma Willow, the wise and caring forest spirit from the 1995 Disney film Pocahontas.
Treetrunks, the gentle elephantine character from the cartoon Adventure Time.
Kanga, the motherly marsupial from Winnie the Pooh.
Miss Spider, the affable arachnid from the 1996 children's film James and the Giant Peach.
Miss Piggy, the headstrong hog from The Muppet Show.
Miss Frizzle the eccentric educator from the 1994 kids' TV series The Magic School Bus.
Linda Belcher, the enthusiastic mom from the comedic cartoon series Bob's Burgers.
Which woman makes you wanna say, "I'd come out to her?"