Watch this 6-year-old spontaneously take the stage at a drag show & flawlessly perform "This Is Me"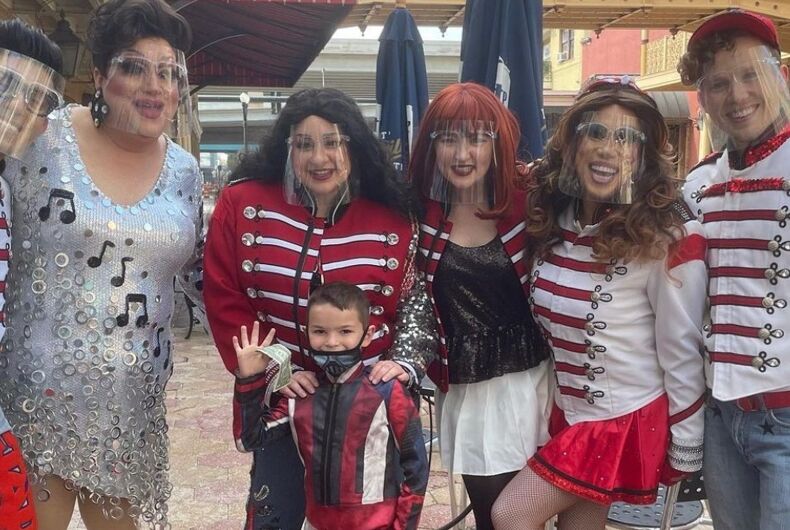 Little Aiden and the Brunch Bunch castPhoto: Hamburger Mary/Instagram
6-year-old Aiden is a fan of RuPaul's Drag Race and The Greatest Showman. But when he took the stage at the end of a drag show for a surprise lipsync of "This Is Me," little Aiden taught the audience why they call performers a queen.
Aiden's flawless rendition brought. Down. The. House.
Related: Gay teen goes viral for performing a stunning death drop at his graduation
The Orlando Hamburger Mary's franchise held their normal Sunday show, the restaurant posted on Instagram, when the little Drag Race fan's parents introduced him and explained why he wanted to come to see the show.
The cast brought the little guy up on stage and helped him to get his official drag name, Sookie Mary.
"He recently sang, 'This is Me' from The Greatest Showman at a karaoke event, and we thought it would fun to surprise him by bringing him to the stage, and [have] the Brunch Bunch crew back him up," they posted with the video. "They are in costume from their finale number but do know the choreography from this song. The rest is Magic, with not a dry eye in the house."
Why? Because after collecting a few dollars, Sookie hit her stride and lit up the stage, complete with killer moves and star quality. The shy little boy blooms into a full-fledged performer.
As the restaurant posted, "There is nothing more beautiful than seeing parents who love and support their children whatever that entails."
According to our sister site, GayCities, Aiden's mom also uploaded her own video of Sookie's debut. The sound quality isn't as good, but you can see the little guy better. She also responded to a commenter on the restaurant's post.
"This just warms my heart. It literally brought tears to my eyes watching this boy be true to himself and enjoying every moment. THIS will forever change that boy's life, a moment he will cherish forever," they commented.
"Coming from a family that is not so supportive and growing up only dreaming I could step inside of a place such as Hamburger Mary's, this is breathtaking. Thank you to everyone who made this night so special for that boy! ❤️ His parents are amazing for being supportive and loving their child as he is."
"Hey there I'm Aiden's mom," she responded, "and I wanted to let you know we support you! Thanks for spreading the love!"