Watching Elton John pretend to get a COVID vaccine will leave you ready to get pricked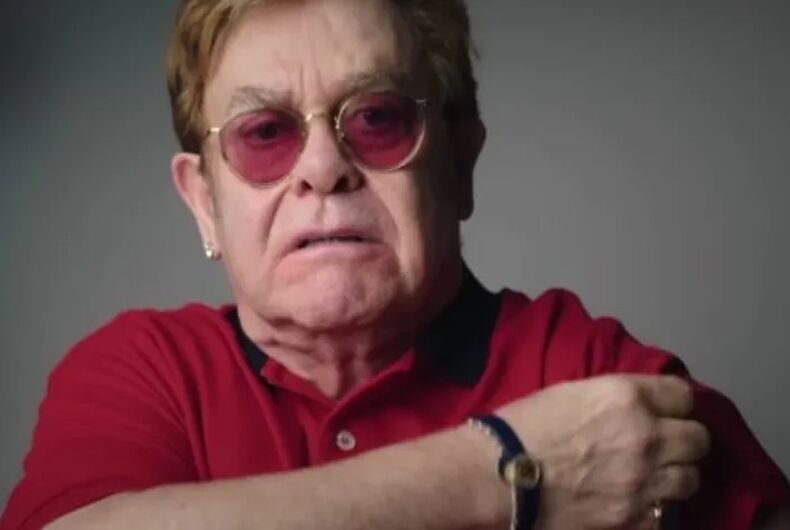 Elton John appears in a new British PSA promoting the coronavirus vaccinePhoto: Screenshot
Musician Elton John is starring in a new British public service announcement to promote the coronavirus vaccine. Despite the vaccine's obvious effectiveness, some people remain hesitant to get the shot.
Elton is ready to help the government encourage people to get pricked. But he's not that good at it.
Related: Jen Psaki shuts down Fox News' transphobic question with "Trans rights are human rights"
The pop sensation's bumbling attempts to "act" and deliver his lines are the real star of the spot – until Michael Caine comes in to save the day.
"The more people in society who get vaccinated, the more chance there is of eradicating the national COVID pandemic," Sir Elton notes seriously. "It's really important to know that the vaccines have all been through, and met, the necessary safety and quality standards."
A recent report from the Centers for Disease Control and Prevention (CDC) noted that "several underlying health conditions that increase or might increase the risk for more severe COVID-19–related illness were more prevalent among sexual minority persons than heterosexual persons, both within the overall population and within specific racial/ethnic groups."
Some states have started asking patients to disclose their sexual orientation and gender identity in an attempt to more closely investigate the effect of the coronavirus on LGBTQ people.
In the United States, the vaccine rollout has been plagued with problems caused by the Trump administration's lack of a plan to combat the virus. While the administration claimed to have a stockpile of vaccine, when President Joe Biden assumed the presidency, the new administration quickly discovered it was another of Donald Trump's lies. There was no stockpile.
The Biden administration has been working to expand vaccine distribution and availability.