White House "stands by" Joe Biden's promise to sign the Equality Act in first 100 days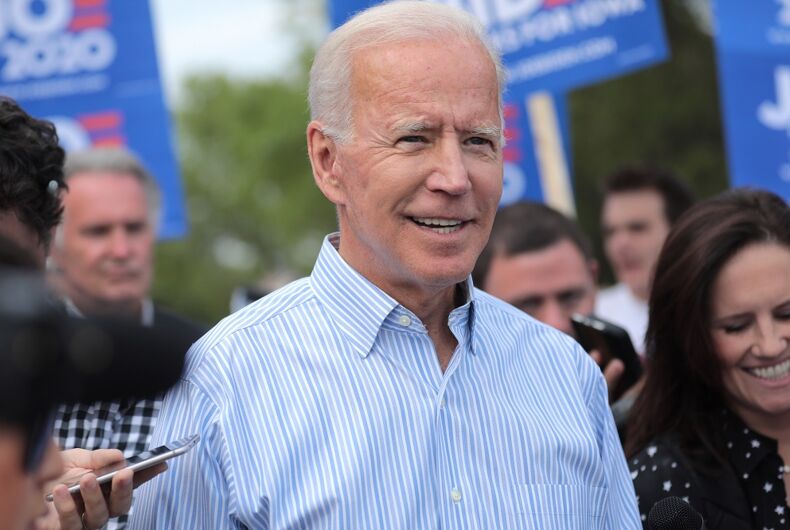 Joe BidenPhoto: Shutterstock
White House Press Secretary Jen Psaki said that President Joe Biden "stands by" his pledge to sign the Equality Act within the first 100 days of his presidency.
Psaki was asked about the bill at a press briefing yesterday. The Equality Act would add sexual orientation and gender identity as protected categories to federal civil rights legislation, banning anti-LGBTQ discrimination in housing, public accommodations, credit, and other areas. The landmark legislation was one of the central promises made by the Biden campaign to LGBTQ people.
Related: Cher raised $2 million for Joe Biden & he promised to pass the Equality Act
"He stands by it," Psaki said, responding to a question from a Washington Blade reporter. "I would say that there's some actions that need to be taken by Congress, of course."
She noted that we are just two weeks into the Biden administration, "so we have 85 days to go."
When pressed about whether Biden will put public pressure on Congress to pass the bill so that he can sign it, she said, "I think the president has been out speaking out about a range of issues he's committed to, including many on LGBTQ rights, over the course of the last two weeks of his presidency, and he will continue to be."
"But I don't have any scheduling updates for you at this point in time."
The Equality Act has been introduced in every session of Congress since 2015. In 2019, the House of Representatives passed the bill for the first time, but the Republican-controlled Senate did not even bring it up for a vote. Donald Trump, who was president at the time, opposed the bill, saying that it would "threaten to undermine parental and conscience rights."
With Democrats controlling the House, Senate, and the White House at the same time, they finally have a chance to pass the law.